Never have just 1 piece left
Have you noticed that when there are just a couple buds left in a jar, the new fresh jar sells through faster? Have you ever seen the last one of anything just sits for days, while the product was a hot seller when it was first put out on the floor?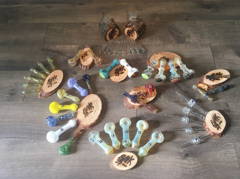 This phenomenon occurs in all sorts of niche areas. Pipes are no exception. There is a fine line between having too many options and not being able to have an option at all. Generally with glass, if there is only one piece sitting on the shelf, it can sit for a long time. There isn't anything wrong with it, but consumers like to "pick" their pipe. Maybe this one is a hair longer then they would like, or the carb is just a bit too small. The little nuances that occur from a hand blown piece can attract or deter your consumer at the last moment. But if they have a few to look at they will choose "their favorite" rather than feeling pigeonholed into the last one available.